6O Days to Love Your Putter
Guaranteed to Improve your Putting!
Program can be completed in 6O days or spread out up to 6 months.  Putter Fitting and SAM Evaluation done at Totally Driven. The rest of the program will be done at Totally Driven or Edinburgh USA in Brooklyn Park.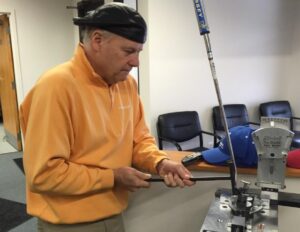 Andythompsonputtingcoach@gmail.com
612-803-1500
The Details
Putting Evaluation

Interview
SAMPUTT Evaluation
Putter Evaluation
Green-reading Evaluation
Distance Control Evaluation
Plan of Attack

$125 Value
2 Individual Lessons
$200 Value
2 Group Sessions
$120 Value
Putter Fitting
$100 Value
AimPoint Express Level 1 &2
$150 Value
AimPoint Speed
$150 Value
AimPoint Advanced
$100 Value
Total
$945 Value
Total: $695
Teaching Style
Andy has a teaching style that is open to what the player needs and his approach is to take the shortest route to getting there.  Often if you start at the right place more than one fault can be corrected.  While technology is needed to measure and train with (at times) it is important to become athletic at putting.  Practicing is an important element of getting better.  Andy teaches effective pre-shot routines (individual to the player), set up and alignment, breathing and head movements as well as stroke mechanics.  Proper practice methods and drills are given to the student that are relative to what they are working on.
Ultimately it comes down to reading the putt correctly, being able to hit it at your intended target and controlling your distance.  The best putters in the world are good at all three.  Most amateurs are good at one of these skills and really not sure of how and where to improve.